Anna's Cashmere Scarf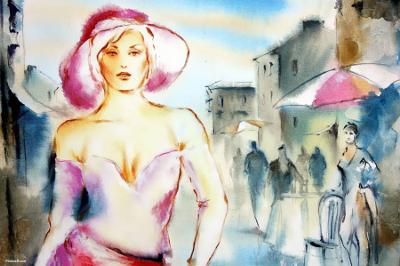 I did not realize how I fell in love with Anna because it all happened so abruptly.


I was invited to spend a few days at my sister's countryside house. I did not expect there will be more people.
When I arrived I was introduced to her friend Anna and her youngest brother. The brother spent all his time in the library he did not play any games and he barely spoke.
Unfortunately it rained outside and it is so dull to be in the countryside when is bad weather. Anna had curly dark hair and she played the piano. Her eyes were like no other woman's eyes I have ever seen, you could see the joy of life in them.
She was restless and she almost ran instead of walking. She could not care less about the rain when she dragged me out to show me the strange elegant peacock in the neighbor's garden.
That afternoon the rain stopped suddenly. It was late summer and I remember the red glossy apples in my sister's orchard. A horse was galloping in the distance and one could rarely hear a car in that remote forgotten place.
We drank tea on the terrace and we laughed and she told me about her childhood. I could hardly follow what she was saying. I was seized by the strong desire to kiss her an hold her in my arms but instead, I stood there listening to her politely.
The following day we all had a barbecue in the garden and I had the opportunity to taste my sister's house wine which her husband knew so well to prepare.
I thought I would kiss her that evening but not even the wine gave me that courage. I went to bed decided to kiss her the next morning. We were having coffee on the terrace and I was pouring some milk into my cup when we could hear a car's horn in the distance. Anna rushed to the gate. I ran after her and I grabbed her cashmere scarf that she dropped while trying to open the gates.
The car entered the courtyard. She flunged herself into the arms of a young man. I found out later that he was her fiancee.
Instinctively she did not took the scarf back from my hands.
So many years passed since then and I still wonder why.
Was it because she unconsciously felt my wound?
Was it a delicate feminine apologize for making me fell in love with her?
Had she really sensed my feelings?
I will never know. But I still have the olive cashmere scarf and I use to take it with me wherever I go. They would call it a writer's whim.