Cashmere Socks

I live in cold country and I need my cashmere socks all the time. They keep my toes toasty warm.
If you like to wear your socks around the house or in bed then I recommend you buy 100% pure cashmere , especially ribbed knit or cable knit. They give you that comfortable feel of luxury.
If you like to wear socks with your business shoes then its best to go for a more durable thin black cashmere.

Gobi is one of the cashmere company which adds a lot of elastic to their socks. This makes the socks more durable. If you have a pair you might disagree. But that's because they only recently started to add this elastic when they upgraded their technology.
But for the most comfort you need 100% cashmere. And the older your socks get, the more comfortable and softer they will feel. Just like you, they get better with age ;)
You can buy good quality socks from other retailers. Brora has a long socks and legwarmers.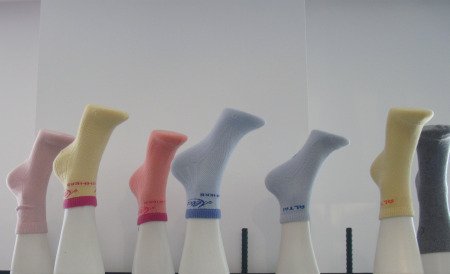 What woman does not enjoy pampering herself on occasion? After all a little self indulgence is good for the soul as well as the mind.
Special jewelry for women, delicately scented perfumes and exquisite fabrics are just a few of the ways you can give yourself a taste of luxury.
Everyone deserves to be treated as though they were royalty and for many women fine clothing products are a wonderful way to indulge their senses.
With cashmere socks and other garments you can pamper yourself with elegance and comfort right down to the tips of your toes.
When it comes to clothing for women there are silk and satin that are richly smooth to the touch. Cashmere products are also one of the favorite clothing choices for women who want to treat themselves to the best garments in the world.
You can snuggle into a soft, lightweight cashmere sweater; toss a cashmere throw over your shoulders or warm your toes in a pair of elegant, finely woven, cashmere socks.
The delicate texture of the
cashmere wool glides underneath your fingers as smoothly as butter and the feather weight softness provides the perfect amount of warmth without feeling overly heavy.
The finest of all cashmere fibers are collected with exquisite care. The long, delicate wisps of wool are combed and harvested by hand to protect the integrity of each and every strand of cashmere. Only the best cashmere is used in the manufacturing process of clothing.
Cashmere has long been one of the true hallmarks of class and elegance and the popularity of this wool is even stronger today. People realize that they can choose garments made out of truly sustainable materials and at the same time they are purchasing one of a limited number of clothing items that are created from cashmere wool each year.
What could be better than curling up on a rainy evening with your favorite book, some luscious imported chocolates and a pair of women's cashmere socks? With this trio of treats at the ready you will feel as though you have been crowned Queen for the Day.
There is something that feels exceptionally indulgent when you slip your feet into a pair of cashmere slipper socks. The fabric feels as light and delicate as a whisper.
You can wear these socks with slacks or boots or just enjoy the feel of these airy soft cashmere slipper socks as you lounge about at your home. The cashmere wool used to create these slipper socks for women is the finest in the world. Once the socks are in place you will feel as though you have wrapped your feet in a cloud of luxury and you just can not help but feel as though all is right with the world no matter how trying a day you may have had.
Now this type of royal treatment is something that you definitely deserve.

THE BEST PLACES TO BUY
Brora - http://brora.co.uk
The white company - http://whitecompany.com
Your Comments
Have you ever put on a pair of socks and been surprised at how good they feel? Share your story!




Your Stories and Tips
Click on the links below to read other

visitors' stories.






Return from Cashmere Socks to Cashmere Expert

Cashmere Slippers Cashmere Blankets Company